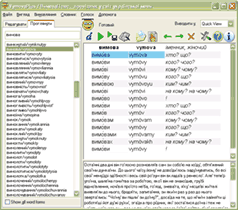 VymovaPlus with built-in Ukrainian text-to-speech system guides you within Ukrainian speech and language
This talking software based on the original Ukrainian text-to-speech (TTS) synthesis guides you within Ukrainian speech and language. Learn Ukrainian, explore Ukrainian words, read, speak and listen Ukrainian texts with VymovaPlus assistance!
The title VymovaPlus originates from the Ukrainian word вимова (vymova) - pronunciation. Plus means three main extra features: (1) reading aloud any Ukrainian texts accomplished with bookmark system highly useful for reading long texts, (2) smart transliteration from English letters to Ukrainian and vice versa, (3) Ukrainian word grammatical look-up
To help reading Ukrainian text it puts accentuation marks (stresses). For those who is not familiar with Ukrainian alphabet, a phonetical text where English letters are used is optionally provided.
You may input Ukrainian text using both Ukrainian or English letters.
The Accentuate command might also be used to transliterate Ukrainian text to and from English letters. While transliterating from English letters possibe ambiguities are processed.
You may look at details (paradigme, conjuation) of the selected word as well!

Words might be selected in Editable, Look-up or Web window.
Moreover, the software reads aloud any Ukrainian texts, particularly from websites! Just open a respective web page or a text document, select the desired text portion, push the Pronounce button and listen how it speaks, releasing your eyes from reading and hands from scrolling!
Text-to-MP3 conversion is available since 2.0 version.
Note, in current version English texts will be read with some Ukrainian accent.
Learn more about voices.
Both English and Ukrainian interfaces are available!
Bookmark system is provided. It is helpful to resume listening text from the last stopped point.
Options dialog allows for customizing the product appearance and performance meeting your specific purposes and current familiarity with Ukrainian language and with the software.
Learn more details in on-line documentation.
What's new in version 3.0?
The default voice is replaced with a new revolutionary one Panas. A new Transliteration command is added, which converts Ukrainian letters to English and vice versa. A new pane 'QuickView' is available where the program may optionaly produce either word details or accentuation or transliteration rezult. All panes are now resizeable. Commands are now accessible from menu. A special folder My Documents\My Vymova Files is provided to store bookmarks and speech files. On-line updates are checked automatically. Known bugs are fixed.
System requirements: Pentium computer, 35 MB disk space, Windows XP/2000/NT/ME/98
To buy the software you should download the newest version and get your registration key.