Welcome to VymovaPro: Ukrainian-English-Ukrainian talking translation dictionary!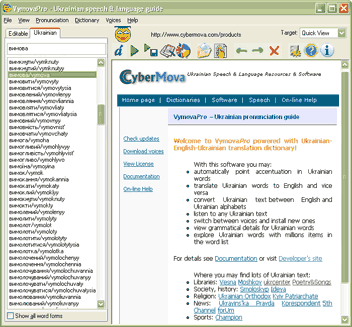 VymovaPro is a computerized tool to learn and speak Ukrainian and to translate to and from Ukrainian powered with speech and language technology.
With this software you may:
automatically point accentuation in Ukrainian words
translate Ukrainian words to English and vice versa
convert Ukrainian texts between English and Ukrainian characters
listen to any Ukrainian text
switch between voices and install new ones
view grammatical details for Ukrainian words
explore Ukrainian words with millions items in the word list
What's new in Version 1.1?
The default voice is replaced with a new enhanced voice Panas. Frames are now all resizeable. Ukrainian interface is available. Known bugs have been fixed.
Download the latest version with a new improved voice Panas and try it for free!
You may also need to download patches if the software cannot run properly on your system.
Anyway, try the software before you buy!
Learn more from Flash Demo and Online Documentation